Live Video Production

from

Adelaide Live Stream Pros
We are a group of skilled video producers who specialise in Live Video Production content for events in Adelaide . We can organise events for businesses, weddings, funerals, sporting events, and even virtual ones.
About Adelaide's Top Live Video Production Service
In order to meet the demands of a significant number of people wishing to have their event live-streamed because of Covid19, Adelaide Livestream was established in 2020.
We manage Onepost Media, which has existed since 2014. We are the same people. This was developed in response to the overwhelming demand for live streaming business events, weddings, funerals, and other events.
Live Video Production – Why Live Streaming is so important
Live streaming is without a doubt one of the most effective methods for recording events and allowing for online viewing. Live streaming enables viewers from all over the world to see events as they unfold, whether they are sporting competitions, musical performances, or even straightforward news conferences.
But why is live streaming so important? Here are a few reasons:
1. It's live!
The fact that live streaming is real-time is undoubtedly its greatest benefit. Real-time action can be followed by viewers, giving them the impression that they are actually there. This is crucial because it enables individuals to experience events taking place elsewhere in the globe as if they were actually there.
2. It's interactive
Additionally interactive is live streaming. Real-time dialogue and interaction between viewers heightens the sense that they are a part of the action. This is a fantastic method to create a community around an event, and it may also assist to boost viewership and engagement.
3. It's accessible
Live streaming is really easy to get. All you require is a gadget that can connect to the internet and an internet connection. This essentially implies that viewers can watch live feeds from anywhere in the world.
4. It's flexible
Live broadcasting can be adaptable as well. You can live stream on a variety of platforms, and you can customise your live stream to meet your needs. For instance, you can decide to live broadcast on social media, your website, or a platform designed just for live streaming.
5. It's easy to set up
It's also not too difficult to start up live streaming. A camera and a live streaming service are all you need. Then, in a matter of minutes, you may begin live broadcasting.
For recording events and viewing them online, live streaming is a very potent tool. It is readily available, versatile, live, interactive, and simple to set up. You could be losing out on a lot of viewers if you aren't live streaming your activities.

Live Video Production – Our Services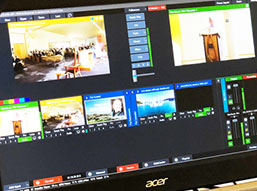 Corporate Events
Corporate Event Livestreaming in Adelaide South Australia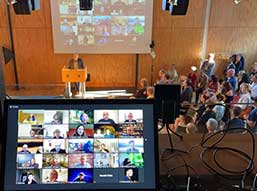 Funerals Adelaide
Funeral Events Live streaming in Adelaide South Australia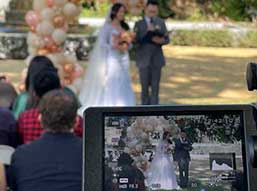 Weddings
Wedding Events Live streaming in Adelaide South Australia

Adelaide Livestream – Let's Talk
Hit the button below to give us a quick call. Or, if it's 2am and you are googling 'Adelaide Live Stream' feel free to fill out the form and we will be back to you ASAP with your quote.